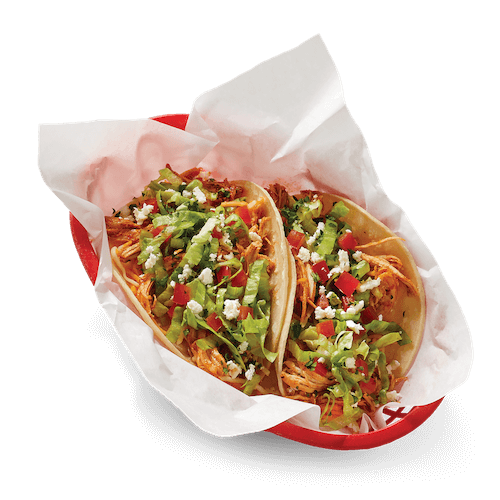 Get more bang for your hang with a shredded chicken taco (or four). Mouth-watering, crave-inducing  and served up with  fresh toppings that slay, this one's a go-to for our Fuzzy fan club. Like, obviously.
We're talking juicy chicken, feta, shredded cheese and toppings that are fresh-to-DEFINITELY. With our famous garlic sauce doing its thing for high-key flavor that's always hang-worthy. These badass Baja Tacos slay day after day.
Expect value as far as the mouth can eat. We've left nothing on the table and loaded our shredded chicken tacos with toppings of epic proportions. Hang out and dig in. You already know we're dishing out good vibes with every bite.
Shredded chicken tacos near you. Our love language.
Let Fuzzy's guac your world with fast service, chill vibes and prices to drool over. 
When it comes to ingredients, fresh comes first. (And second, and third… You get the picture.) We're taco-ing it up a level with our classic shredded chicken taco that's always on-point. 
We stuff our shells. You stuff your face. If you're looking for a place to kick it while you dig into stellar shredded chicken tacos near you, Fuzzy's Taco Shop is where it's at.