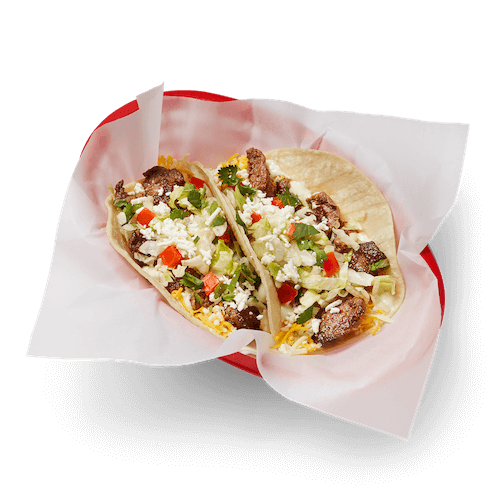 Feeling a Beef Fajita Taco from Fuzzy's Taco Shop? Of course you are. Fuzzy's is your one-stop-Taco-Shop for all things fajita—better yet, all things tacos, quesadillas, burritos, and quesadillas all day long!
As if Beef Tacos weren't already good enough, we take it to the next level by marinating and hand-slicing our beef, then sizzling it up fajita style for the kind of mouthwatering flavor you can't help but crave. Pair that with a warm flour tortilla, our signature garlic sauce, crisp lettuce and tomatoes, shredded cheese, cilantro, and feta, and you've got it made in the shade (of our patio, obviously).
No matter when you're cravings hit, you can always kick it with a Beef Fajita Taco (or three) at Fuzzy's Taco Shop, and if not, you can always try our Fajita Chicken Taco and Carnitas Taco along with an entire menu full of stellar Tex-Mex and Baja favorites you can't help but hang out with.